A message from our founder
Our top priority has always been getting our customers the absolute best value and best results with their suspension. Over the past 15 years we have sold tens of thousands of sets of custom coilovers, and we have had the opportunity to get direct feedback from thousands of our customers. We have invested in suspension testing equipment, and we have tested dozens of options on the dyno and spring rate tester. More than any other aftermarket automotive component coilovers are not a one size fits all product. We know what options will provide the most comfortable ride quality, we know what will win time attacks and we know what will be reliable and offer great support years down the road. No one is more passionate about automotive suspension than we are, and no matter what your suspension goals are we can make it happen.
If you give us the opportunity to earn your business we will do everything possible to ensure that you love your suspension, and we will be here both before and after the sale with a lifetime of industry leading tech support. You will get the results you are looking for the first time, and you won't end up in the costly position of having to do things twice. You don't have to pay more to get more though. We will beat any price on everything we sell. Thank you very much for your interest in our company and thank you to everyone who has supported us over the years!
 – Geoff
Cygnus Performance LLC owner and founder
A different business model
At the time we are writing this we have not spent a single cent on advertising in almost 3 years. Despite the fact that we are no longer spending tens of thousands of dollars on advertising we are selling thousands of sets of coilovers and grossing millions of dollars each year. This is only possible because of our customers. We put all of our time and resources into helping customers get the most out of their suspension. Because so many of our customers appreciate the technical support they are given both before and after the sale, and because our customers enjoy their car so much more after they upgrade their suspension we get close to 100% of our business from referrals, good reviews and repeat customers. We are enormously grateful for this support. It allows us to focus on our favorite parts of the job which are helping customers and developing suspension rather than advertising. It also makes it financially possible for us to spend an unlimited amount of time with every customer both before and after the sale while still beating every price out there.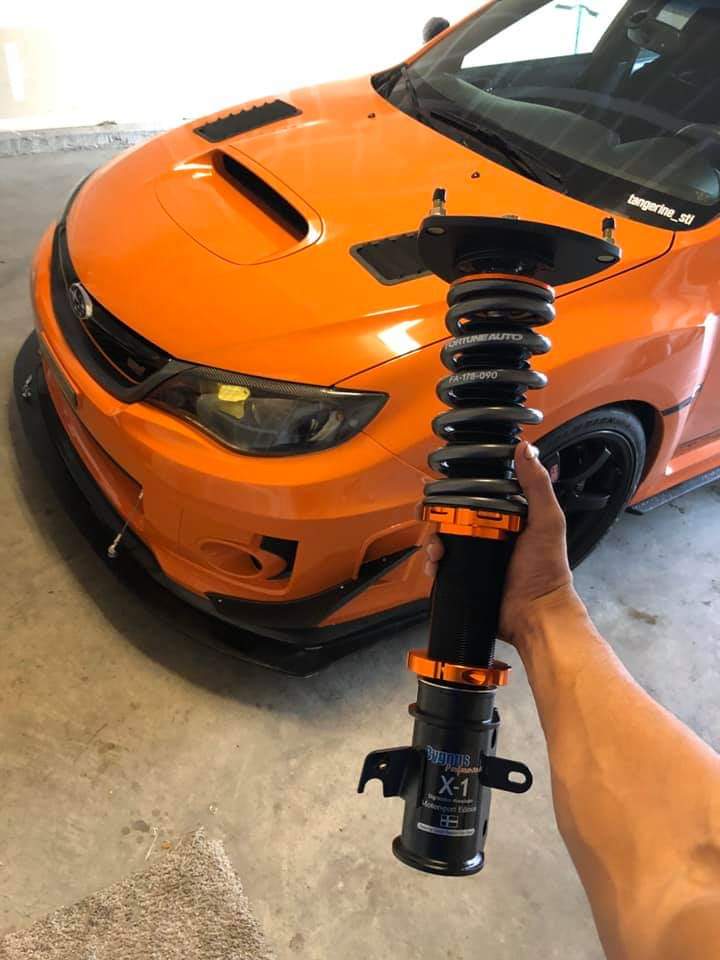 Our new website has a much smaller, more focused catalog than our original website. Because we rely so heavily on every customer getting excellent results we do our best to only sell products that are high quality and have proper R&D behind them. Our customers come first, and if a product or the support offered with it is not up to our standards we won't recommend it. If you choose to purchase your suspension through Cygnus Performance you can rest assured that making your suspension the best it can be always has been and always will be our number one goal.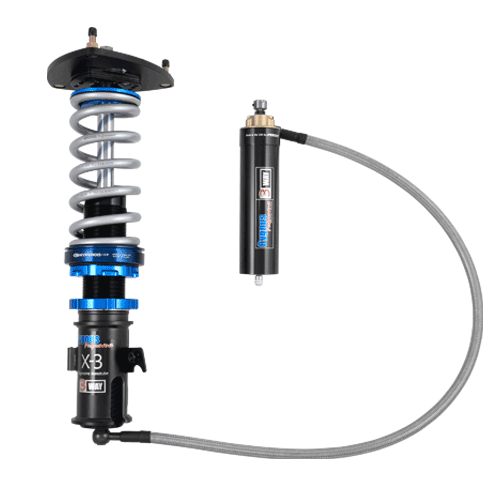 We often get asked where the name Cygnus came from. Cygnus Performance gets its name from the constellation Cygnus. The star in the "Cygnus Performance Star Logo" represents the black hole portion of the binary star Cygnus X-1. This is one of Cygnus Performance's earlier logos. The black hole portion of Cygnus X-1 is about 8 times the mass of the sun, but only about 30 miles in diameter. In the images below you can see the resemblance: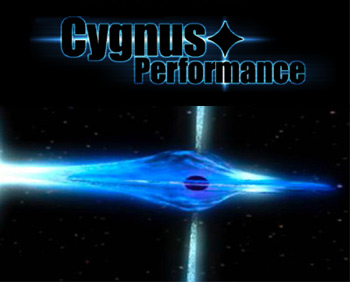 Cygnus Performance was founded in 2006 in Satellite Beach Florida by Geoff Parnum. Geoff's lifelong passion for both cars and computers made this business a perfect fit for him. After several years of modifying and racing personal Subarus he decided that he wanted to improve the aftermarket parts buying experience and Cygnus Performance was born.
Geoff has authored dozens of technical articles on major automotive forums and social media which have been read millions of times over the past 15 years. While competitors hire new employees to handle all customer interaction Geoff still interacts with customers on a daily basis. Providing real tech support both before and after the sale to get you the best possible results is something that requires years of direct suspension experience. We focus on doing one thing better than anyone else in the world which is custom suspension. While there are hundreds of performance parts shops in the United States we are one of the few that truly focuses on suspension.
We test nearly everything we sell both on the street and on the track. We have also extensively tested many options that we have chosen not to recommend or sell. We have invested tens of thousands of dollars into shock and spring testing equipment which allows us to tell you exactly what to expect with your suspension and how one option compares to another. We don't just guess or recommend what makes us the biggest margins. We qualify our products and recommendations with real data. Our passion and dedication to providing accurate, candid advice has resulted in thousands of positive reviews on various automotive forums and social media. Everything we have achieved is only possible because of our customers. Thank you very much to everyone who has made it possible for us to do what we love for a living over the past 15 years. We look forward to serving you for many years to come!