Independent Preload Adjustment vs Helper Springs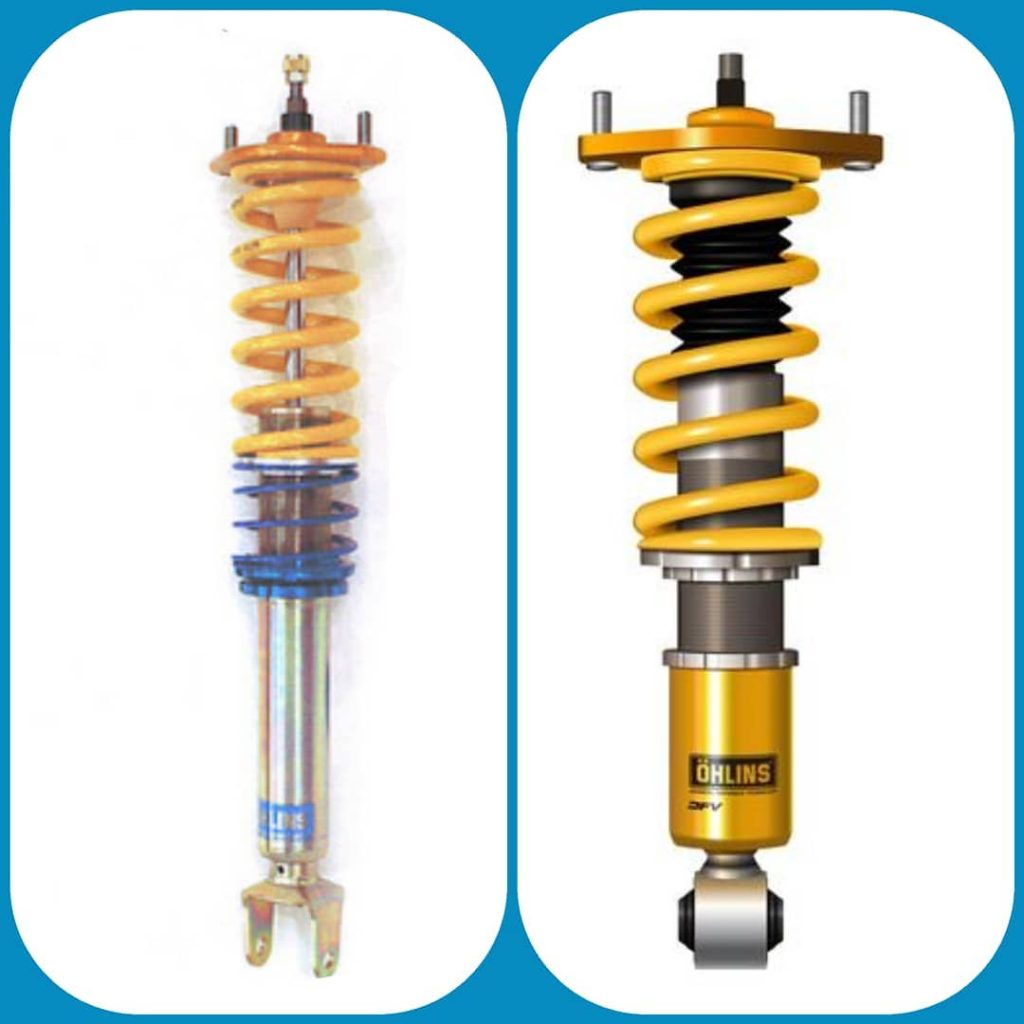 This picture shows the two main styles of height adjustable coilovers. The shock on the left uses a helper spring to keep tension on the main spring. The shock on the right allows the user to lock preload with the lower spring perch independent of ride height adjustment. With the helper spring style the shock is a single piece. Ride height adjustment is achieved by adjusting lower spring perch which is the ring that the bottom of the helper spring (the short blue spring) sits on. The independent preload style uses a separate lower mount. The entire shock sits inside of this lower mount. Ride height is adjusted by spinning the entire shock up and down in this lower mount.
The amount of tension on the mainspring of a shock is referred to as preload. If there isn't enough preload the spring will unseat and make noise. If there is too much preload there can be other issues such as spring bind.
I have sold many of both styles over the years. Personally, I prefer independent preload for a number of reasons. With independent preload ride height adjustment and corner balancing is much less finicky. With the helper spring style both preload and stroke are affected when ride height is adjusted. Without independent preload adjustment we often have to custom spec main spring and helper spring lengths in order to get customers the ride height they want without noise or other issues. If the customer decides to change ride height in the future they sometimes need different seings to do it.
With independent preload adjustment getting the ride height you want is quick and easy because preload isn't changing. Lowering the car also isn't taking up shock stroke because you're moving the shock itself rather than moving the spring and letting the shaft of the shock use up stroke as you go lower. This makes it much easier to design a shock that works properly at the ride height a customer desires. It also means the end user will have a very consistent feel from the suspension regardless of ride height setting. Whether they are at the highest setting, the lowest setting or anywhere in between, the suspension will feel the same.
One advantage that the helper spring style sometimes has is the ability to run a higher ride height, but Cygnus Performance gives you the best of both worlds because we offer custom shock lengths. This is something that is quite unique that very few manufacturers are able to offer. We can get you independent preload adjustment to make life easy, and we can also maximize shock length/stroke/travel by providing you with shocks specifically tailored to your needs. We can also get you any ride height range you want. If you want to lower the car aggressively we can do that. If you want to raise your car we can do that, and we can do anything in between. Custom coilovers get you much better results because they aren't sitting in a box with a bunch of compromises that are supposed to work for everybody. They are built for you to help you reach your goals with your car.
With that said, we are about to release some pre-configured, ready to ship X-1 coilover options with published ride height ranges. If the range and options are well suited to your goals then it will be a great way of getting coilovers quickly. Otherwise we will always offer our fully custom products because custom suspension will continue to be the only way to get many customers the results they're looking for.
All Cygnus Performance X-1/X-2/X-3 coilover sets, and all custom Cygnus Performance Ohlins, Penske and Fortune Auto coilovers feature independent preload adjustment.