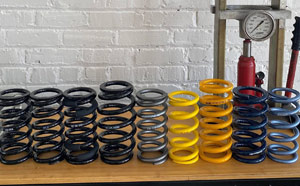 There is no additional cost to customize spring rates on our Cygnus Performance X-1 coilovers, and unlike most coilover brands in this price range we actually valve your shocks to match your desired spring rates. The standard rates are the most popular choice. They do everything well. The standard rates are soft enough that daily driving remains comfortable and stiff enough that handling will be considerably better than stock with significantly less body roll. They are are also stiff enough to allow for a fairly aggressive drop in ride height. The default setup is a good compromise between all of these attributes, and it's the most balanced setup. Coilovers are not a one size fits all product though, and that is why the custom rates are a no cost option.
If smooth ride quality for daily driving is a top priority you may want to consider softer spring rates. How much softer to go than standard is application dependent, but normally a 1k reduction in rate is sufficient. The downside of softening the rate is more body roll, but handling will still be considerably better than stock. If the best possible handling and minimal body roll are your top priorities you may want to consider going with a stiffer rate. There are many factors involved in determining how much to increase rate for the best possible handling. The stiffer you go, the harsher the car will be on a bad road for daily driving. The final thing to consider is front to rear bias which affects the overall neutrality of the car and whether it is going to understeer or oversteer.
Choosing appropriate spring rates is mission critical to getting the results you are looking for with coilovers of any kind. Whether you are going with our coilovers or one of the many other custom brands we offer, Cygnus Performance, takes the guesswork out of spring rates. We even guarantee that you will be happy with our rate recommendation, or we will sell you replacement springs at half cost anytime in the future. Don't let a generic performance parts shop give you bad advice. Let Cygnus Performance, an industry leading suspension specialty shop, get you the results you're looking for the first time.
***Addressing all possible scenarios with the various applications that we manufacture coilovers for is beyond the scope of this post. If you would like help choosing spring rates that best fit your goals please contact us. We have spent the last 15 years day in day out helping people with this question, and we would love to hear from you!***