Description
An external reservoir multiple adjustable monotube shock has many advantages over a standard coilover set. The added damping adjustment functionality is the main advantage, but these also move the divider piston into an external reservoir. This means you end up with significantly more shock stroke, significantly more oil capacity and significantly more heat dissipation. The consistency under a wide range of conditions, and the long service life that the X-2 and X-3 offer are the best of any external reservoir coilover set under $10,000. The external canister also allows for user adjustable nitrogen pressure.
For competition use independent compression adjustment can be a game changer, but you need the proper technical knowledge in order to take full advantage of it. When you choose Cygnus Performance coilovers you are choosing a product that includes a lifetime of real suspension technical support. We will be here after the sale to ensure that you get the most out of your X-2 coilovers. With a truly world class coilover system like the X-2 proper setup and damping adjustment will be mission critical to get the most out of your investment.
15 years worth of custom coilover experience as well as thousands of hours of both real world and lab R&D have gone into this product. When you purchase Cygnus Performance coilovers you are not just buying something that will bolt up to your car. You are buying a suspension system that has been designed from the ground up for your particular application. Everything from the valving profile to the shock and stroke lengths to the top hat design and spring rates has been specifically developed to work with your car. This unfortunately is not how most manufacturers develop coilovers. They take an existing shock and slightly modify it to bolt up to your car. Our system will actually help you get the most out of your car when it comes to performance, handling and ride quality.
Not all double adjustable coilovers are created equally. You are much better off with a high quality truly digressive single adjustable coilover set than you are with a typical low quality budget 2-Way. The Cygnus Performance X-2 is independent compression adjustment done right. This is a true monotube external reservoir solution with a useful range of adjustment.
To put things into perspective we have dyno'd many of the competition's 2-Ways. In the images below you will find full open/full close PVP's of two fairly popular less expensive competitors as well as a full open/full close PVP of the X-2's. To keep things fair we chose to dyno rear VA STi fitment shocks for all three brands. We ran the same warm-up cycle on our Rhoerig dyno for each brand, and no smoothing or correction was used.
Silver's had approximately 50 lb of compression adjustment from full soft to full stiff. This is not a meaningful amount of compression adjustment. In the real world essentially what this means is it would be difficult to even notice the difference between full soft and full stiff on this particular coilover set. Here is the dyno sheet of Silvers 2 Ways: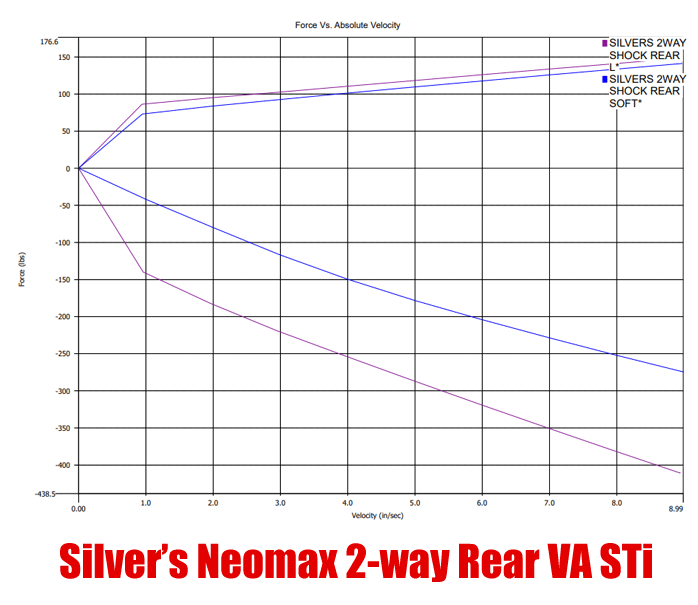 We also tested KW V3 coilovers. This is the same coilover set that the popular RCE T2 is built on. While they fared better than Silver's you can still see the inherent limitations of a small surface area twintube piston. The total adjustment range was about 200 lb of compression.
Surprisingly, on full stiff the V3 actually had a progressive rebound curve only reaching 50 lb of compression force at 1 inch per second then jumping all the way to nearly 700 lb at 7 inches per second. The V3 was generating next to no damping force at low shaft velocities where you need it and generating a lot of damping force as shaft velocity increased. The X-2, on the other hand, was already making nearly 300 lb of rebound force at 1 in per second followed by a nearly dead flat highly digressive profile that was only making 400 lb of force at 7 inches per second which gives you the best of both worlds. This is what you want. This gives you appropriate damping force in all the right places which is something that the tiny KW twintube piston simply can never do. This is probably why most of KW's flagship products are monotube.
We understand that this is not an apples to apples comparison and that the KW V3 is half the price of the X-2. The point of this comparison is to demonstrate that unless you spend big money on good double adjustable coilovers there are going to be very serious compromises in other places. The best performing, best riding, longest lasting coilover sets under $4,000 are all single adjustable monotubes. Whether you look at factory suspension such as Subaru WRX vs Subaru STi or aftermarket suspension brands like JRZ, KW and Tein anyone who makes both monotube and twintube exclusively uses monotube for their top of the line flagship products. We don't even bother offering a twintube because there are so many inherent limitations with the twintube design.
Here is the dyno sheet for the KW V3:
On the dyno of the X-2 you will see nearly 500 lb of compression adjustment – nearly 10 times more than popular competitors. This is the equivalent of a 50 horsepower car vs a 500 horsepower car of equal weight. This is the difference between a product that gives you proper valving and meaningful adjustment vs spending a little less and ending up with subpar disappointing results. In our opinion double adjustable coilovers are something you should do right or not do at all. You are better off with a quality single adjustable with proper digression and a meaningful amount of adjustment than a budget 2-Way that doesn't actually do anything well. Here is a dyno sheet of the X-2. Same fitment tested under exactly the same conditions: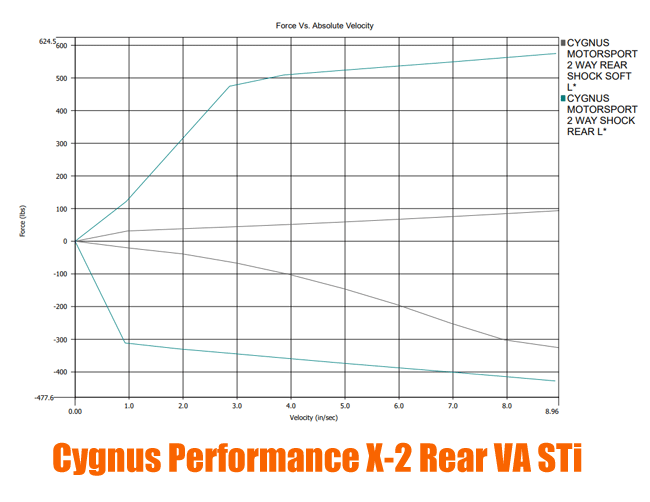 The X-2 is not the least expensive option out there, but it is absolutely the most affordable truly quality double adjustable on the market that truly has a meaningful adjustment range. Independent compression adjustment can be a great feature, but not if it comes at the expense of other functionality. Many double adjustable sets have almost no digression which leaves you choosing between either driver input and body roll reduction or keeping the car composed over road and track imperfections. The X-2 gives you the best of all worlds without compromises. Stiff low speed compression for excellent low speed control, steering input and body roll reduction. Tapering high speed to keep the car totally composed if you cross a curb at the track or if you drive on a road that is less than perfect. A truly impressive compression and rebound adjustment range where every click is felt and meaningful. Rebuildable and upgradable in the United States which means you never have to buy another set of coilovers. Industry leading tech support with no limitations. Real application specific R&D with 15 years worth of custom coilover experience. Get more for your money with Cygnus Performance X-2's.
Have Questions?
If you have questions about these coilovers we are here to help both before and after the sale! Please contact us by clicking here
*Please note that these are custom coilovers that are built to order. We build custom coilovers more efficiently than anyone else in the world which means our typical turnaround time is only one week. However, sometimes components go out of stock and must be reordered. If lead time is absolutely critical please contact us prior to ordering for a current and accurate ETA.